Invisalign for Adults in Okotoks

More adults than ever are choosing to achieve a straighter smile using Invisalign because of the convenience and discreet appearance of this orthodontic treatment option. Discover if Invisalign is the right treatment option for you with a 30-minute consultation with our orthodontists. 
A Clear Alternative to Braces
Invisalign may be a great choice for adults looking for a discreet orthodontic treatment option. When these caler aligners are worn, they are quite inconspicuous. Most people won't even notice you are wearing them. 
With our 3D scanner, you can even view your treatment's results virtually before we begin.
With Invisalign, you benefit from:
Fewer appointments
Clear and removable aligners
No wires and minimal discomfort 
Invisalign Treatment Process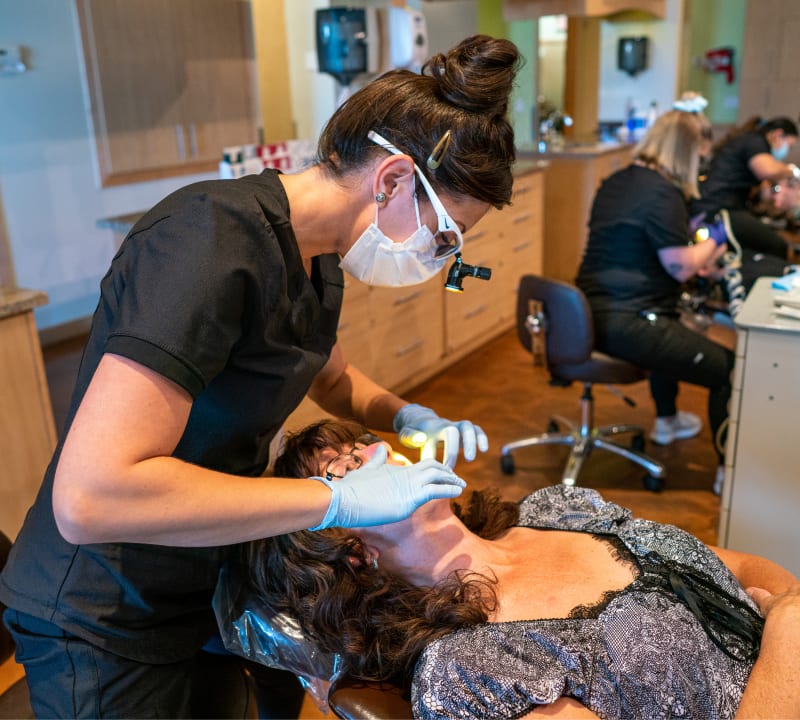 Improve Your Oral Health With Invisalign
Did you know that orthodontic issues are able to negatively affect your oral health? Crowded teeth and a bad bite make it far more difficult to floss and brush your teeth properly, leaving you prone to building up plaque and developing tooth decay.
You may also notice abnormal wear on the enamel and surfaces of your teeth. Erosion of enamel can result in tooth sensitivity, decay, and cavities. 
People with orthodontic problems also sometimes experience headaches and pain in their jaws and joints (Temporomandibular Joint Disorder.) 
Invisalign clear aligners treatment may help you to effectively resolve crowding or bite issues. Take our Smile Assessment today to find out whether or not Invisalign may be the right treatment option for you.
Benefits of Invisalign for Adults
Invisalign® aligners are virtually invisible
...no one needs to know you're wearing them.
Invisalign® allows you to keep eating the foods you like
...and enjoy the things you love.
Follow-up appointments are less frequent,
...once every six weeks.